Top Real Estate Builders and Developers in India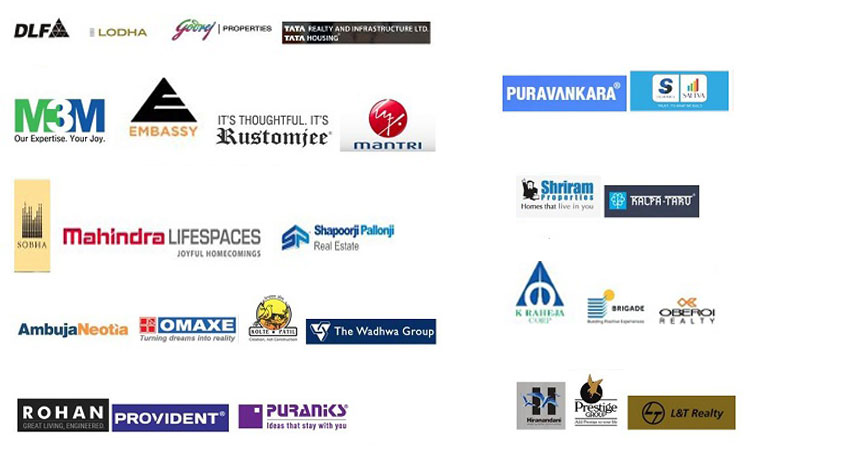 The construction and the real estate sectors are the fundamental part of the Indian economy's growth and responsible for the development of the country's core infrastructure. The commercial properties delivered by the property developers include offices, retail spaces, and institutional spaces. The team of experts in the construction companies or the builders is immensely engaged in providing the construction services after a complete knowledge about the client's requirements in order to fulfill their high expectations with delivery of projects as per committed specifications and quality.
The ranking of builders and developers is asses on the basis of some critical parameters :
·         Design, Engineering & Planning approach
·         Architecture and Innovation
·         Website and Online presence
·         Construction project management
·         Track Record of Builder
·         Construction Quality
·         Timely completion of the project
·         Presence in the cities
·         Number of projects completed and ongoing projects
·         Employee competence
·         Financial strength & Annual Turnover
·         Future vision & growth
·         Eco friendly architecture & use of technology
·         Use of Green Building materials
·         Property management
·         Approvals & Due diligence
·         Customer services
The construction is a time-consuming process involving the management of resources, money and the human workforce. We can also expect a tedious procedure that starts from the planning of the design to final finishing like the fixing of fixtures. The builder also takes care of the health and safety of the construction workers by rigorously following the construction site safety procedures. Top Real Estate Builders and Developers in India are :
1. DLF                                                                            
At DLF, we take pride in our uncompromising integrity in customer engagement and quality assurance, and throughout our 73 years legacy we have made it our core mission to provide real-estate development, management, and investment services of the highest calibre. DLF started with the creation of 22 urban colonies in Delhi. In 1985, the company expanded into the then-unknown region of Gurugram, creating exceptional living and working spaces for the new Indian global professionals. Today, DLF is the largest publicly listed real estate company in India, with residential, commercial, and retail properties in 15 states and 24 cities. The group developed various types of Homes, Offices, Retail and Hospitality.
2. Lodha group                                                         
Whether it's transforming the skyline of Mumbai with one of India's most iconic landmarks, crafting some of the most desirable residences in London, creating a world-class destination in the heart of Mumbai, or delivering India's No.1 smart city, one name is transforming the way we live with landmarks of global standards. Lodha Group work relentlessly to create developments of exceptional quality with a passion for delivering the finest homes, offices and retail. With developments in London, Mumbai and Pune, and offices in New York, Dubai, Singapore and Shanghai, Lodha is now a multinational corporation with Residential & Commercial Projects.
3. Godrej Properties                                                          
The Godrej Group comprises of a varied business portfolio that includes real estate development, fast moving consumer goods, advanced engineering, home appliances, furniture, security, and agri-care. While a large number of our businesses are privately held, the combined market cap of our publicly listed entities is in excess of USD 15 billion.
The Godrej Group was established in 1897 out of a desire to demonstrate economic self-sufficiency and excellence within India in the pre-independence decades. The ongoing and completed Residential & Commercial projects are in Mumbai, Bengaluru, Chennai, Pune, Gurugram, Noida and Chandigarh.
4. Tata Realty & Infrastructure Ltd.                                              
Providing quality life spaces through continuous innovation. Tata Realty is one of the fastest growing real estate companies in India today. Its primary business is development of residential, commercial and retail properties.
Established in 1984, TATA Housing is a closely held public limited company and a subsidiary of TATA Sons Private Limited. The core objective of TATA Housing is to create a real estate development business that offers world-class property development skills while maximizing financial returns.
The first green development to be executed under this norm was Xylem – Bangalore's first LEED gold rated green building. Prive in Lonavala is pre-certified platinum rated, while Aquila Heights and Raisina Residency are gold certified green developments by the Indian Green Building Council (IGBC).
5. Sobha                                                                        
SOBHA epitomizes "passion at work" in totality. For us it is not only a catch phrase which sounds just right, rather we all strive to live it daily. It serves as compass which guides us towards creating world class quality products and workmanship. It guides us to be transparent in all our dealings and adhere to delivery on time, each time.
Sobha's track record of being the most reliable and trustworthy builder with a repertoire of award winning properties across India speaks for itself. We changed the skyline in Bangalore, created landmark developments in Kerala and have stepped into Delhi – NCR, Chennai, Coimbatore, Mysore, Pune and many more to follow. The group's major presence in Bangalore, Delhi NCR, Pune, Chennai, Thrissur, Coimbatore, Cochin, Kozhikode and Mysore. The Infosys centres in Bangalore, Mysore and several other cities are fine examples of our expertise in turnkey construction.
6. K Raheja Corp                                                   
K Raheja Corp is a success story spanning four decades and stands today as one of India's leading developers. From exquisite residences to adaptive workplaces, skillfully created hotels and convention centers to outstanding retail destinations, the K Raheja Corp has made a significant impact on the evolution of modern-day living. K Raheja Corp delivers aspirational spaces with distinct characteristics and attributes, making each of its offerings unique. With the upsurge in the Indian real estate sector, K Raheja Corp is one of the main proponents that will level the playing field for India with other developed economies with the projects Residential, Commercial, Malls and Hospitality. 
7. Brigade Group                                           
 One of India's leading property developers with over three decades of expertise in building positive experiences for all our stakeholders and winning customer's trust. Instituted in 1986, developed many landmark buildings and transformed the city skyline of cities across South India namely Bengaluru, Mysuru, Mangaluru, Hyderabad, Chennai and Kochi with developments across Residential, Offices, Retail, Hospitality and Education Sectors. Since its inception in 1986, Brigade has completed over 250 buildings amounting to 70 million sq. ft of developed space in residential, offices, retail and hospitality sectors across 7 cities.
8. Oberoi Realty                                                    
At Oberoi Realty it is a constant quest and an abiding commitment to ensure that the relationship between these spaces and the lives ensconced in or around, feel truly enriched – enhanced by understanding what a discerning lifestyle demands. Enhancing lives is almost a cultural constant, a lens through which we envision our every project and each minute detail in it – we are committed to ensure that the experience is rewarding.
9. Hiranandani Group                                       
Established in 1978, Hiranandani Group is one of the most prestigious real estate developers based in Mumbai. Hiranandani Group has the vision of creating a new India with self-sufficient and enduring townships. Every activity, be it in real estate, education, healthcare, hospitality, leisure or entertainment has steadily focused on creating a better experience in every aspect of life. While corporate has gone from strength to strength, the Group is primarily synonymous with quality, commitment towards customers, reliability, and excellence in architecture. We are here to give an experience of a lifetime to every family, through infrastructure that is synonymous with supreme quality, beauty, and longevity. The group focused in Residential, Office, Healthcare, Education and Hospitality projects.
10. Prestige group                                     
Over the last decade, the Prestige Group has firmly established itself as one of the leading and most successful developers of real estate in India by imprinting its indelible mark across all asset classes. Founded in 1986, the group's turnover is today in excess of Rs 3518 Cr (for FY 15). Having completed 210 projects covering over 80 million sq ft, currently the company has 53 ongoing projects spanning 54 million sq ft and 35 upcoming projects aggregating to 48 million sq ft of world-class real estate space across asset classes. Now with 205 landmark developments across the city, the company has extended its expertise to major cities across South India including Chennai, Hyderabad, Kochi, Mysore, Mangalore and Goa.
11. Mahindra Lifespaces                                              
Mahindra Lifespaces is one of the leading real estate development companies in India. We have projects across the country and provide thoughtfully designed living spaces in Bengaluru, Chennai, Nagpur, Pune and Gurgaon espouse responsible, green design and development, and are driven by our mission of Sustainable Urbanisation. Established in 1994, Mahindra Lifespace Developers Ltd. is the real estate and infrastructure development business of the USD 19.4 billion Mahindra Group, and a pioneer of sustainable urbanisation in India.
12. Shapoorji Pallonji Real Estate                                            
With a significant part to play in the 150-year journey of the Shapoorji Pallonji Group, built  reputation by building some of India's iconic structures that have stood the test of time. Thoughtful design, combined with solid construction and the latest in engineering,  build structures that silently scream strength and stability, and last generations. With a commitment to deliver world-class living spaces to the citizens, SP  build residential spaces across the country. Because home is what you come back to, everyday. And the group make sure you look forward to it,  Every time, Through SP Infocity, we have created a brand for commercial workspaces that are comfortable, state-of-the-art and certified green.
13. L&T Realty                                                   
Larsen & Toubro is a major technology, engineering, construction, manufacturing and financial services conglomerate, with global operations. L&T addresses critical needs in key sectors – Hydrocarbon, Infrastructure, Power, Process Industries and Defence – for customers in over 30 countries around the world. Backed by rich experience of over 75 years in the construction industry, L&T has successfully forayed into the real-estate industry with its real-estate arm L&T Realty developed residential, office and retail projects.
14. M3M                                                               
M3M Group stands for 'Magnificence in the Trinity of Men, Materials & Money'. The motto of the company is "quality, timely delivery and excellence". Showing its commitment towards developing state-of-the-art real estate masterpieces, M3M has always strived to garner the best talent in the industry. The rapidly expanding portfolio is transforming M3M into a conglomerate of business verticals that straddles: residential, commercial, retail, office spaces, hospitality, education and IT/ SEZ. The vision is not restricted to India alone, M3M is also expanding its footprints in international market.
15. Embassy Group                                                           
Embassy Group, a leading development firm in real estate commenced its operations in 1993 led by Jitu Virwani, Chairman and Managing Director of the group. The Embassy Group creates wealth through innovation, passion and joy, making it the most admired, respected and aspired-for brand in real estate with Redefining Life Spaces including Residential, Commercial, Retail, Hospitality, Industrial, Education and Co-Living.
 
16. Rustomjee                                                              
At Rustomjee, believe the ideas from the cornerstones of buildings. Bricks and motor are merely the blocks that help in realizing them. Ideas transform houses into homes and Offices into innovation centres. The same principle that inspire the company to invent, discover and deliver newer lifestyle solutions. Since its inception in 1996, Rustomjee has heralded the rise of insightful design and eco-friendly construction technologies.
17. Mantri Developers                                                              
In the supremely dynamic and competitive sphere of property development, one name has consistently been a trail blazer, setting the trends for others to follow. The innovation-led, future-focused Mantri Developers Pvt. Ltd. Established in 1999 with developments that span the residential, retail, commercial, education and hospitality sectors. Domestically though, it will continue to focus on residential, retail, office, hospitality, townships and educational institutions in the high-growth urban centres such as Bengaluru, Chennai, Hyderabad and Pune.
 
18. Purvankara                                                       
Since its inception in 1975, Puravankara has believed that there is only one mantra for success: quality. this credo combined with uncompromising values, customer-centricity, robust engineering and transparency in business operations, has placed it among the 'most preferred' real estate brands in both residential and commercial segments. The Group commenced operations in Mumbai and has established significant presence in the metropolitan cities of Bangalore, Kochi, Chennai, Coimbatore, Hyderabad and Mysore.
19. Salarpuria Sattva Group                                              
Built on the bedrock of trust, innovation and knowledge-leadership, the Salarpuria Sattva Group is one of India's leading Property Development, Management and Consulting organizations. Founded in 1986, the Group has set its footprints across India and is one of the most preferred brands in the country today.
A pioneering spirit has led Salarpuria Sattva to transition through a course of natural evolution and diversification, into a cache of business verticals. From elegant residences to colossal commercial spaces, cutting-edge IT parks, high rises, swank shopping malls and the best of schools, the Salarpuria Sattva brand is a familiar sight in the metropolises of India and one that marks India's mercurial rise in the world's urban landscape.
20. Shriram Properties                                                                
Shriram properties is one of the leading residential real estate development companies in South India, primarily focused on the mid-market and affordable housing categories. The operations commenced in Bengaluru in the year 2000 and, have expanded our presence to other cities in South India, i.e., Chennai, Coimbatore and Visakhapatnam. In addition, we also have presence in Kolkata in East India, where we are developing a large mixed-use project. Bengaluru and Chennai are two key markets.
21. Kalpataru Limited                                                      
Founded in 1969, Kalpataru Limited is one of India's leading real estate companies. A recipient of several global awards in design and quality, Kalpataru has created defining landmarks that have set new standards in real estate development for close to half a century. Kalpataru Limited is part of the Kalpataru Group, one of India's leading conglomerates with interests spanning Real Estate, Power Transmission and Distribution, Civil Infrastructure and Logistics. The group is active in Mumbai, Pune, Hyderabad, Indore and Noida.
22. Ambuja Neotia                                                           
The goal is to create neighbourhoods to live in, healthy environment to work in, centres of excellence where our country's future will blossom and malls that will serve as a complete family destination. The Group's journey, under the stewardship of Shri Harshavardhan Neotia, started nearly two decades ago with a simple mission – to make a difference to the way people live. Bengal Ambuja was initiated with support from the Government of West Bengal, as one of the first joint sector companies in the state. The group deals in Housing, Townshipn, Malls and Business parks & Towers.
23. Omaxe                                                                 
 With 119.5 million sq. ft. of delivered space in real estate and construction contracting, Omaxe is today one of India's leading and trusted real estate companies. In the last 32 years, staying true to its motto of 'Turning Dreams into Reality' and guided by its founding values of delivering quality and excellent real estate spaces, ensuring customer satisfaction and redefining lifestyle, Omaxe has delivered some landmark projects and engineering marvels, created a niche in both luxury and affordable segments and more importantly has brought smiles in the lives of millions of people.
24. Kolte Paril Developers                                                            
Founded nearly 3 decades ago and guided by the simple, yet profound, philosophy of 'Creation, not construction', Kolte-Patil Developers is a leading real estate company with dominant presence in the Pune residential market. Kolte-Patil Developers Ltd. incorporated in 1991, is headquartered in Pune. The company has been creating landmarks for over 28 years and has developed and constructed over 50 projects including residential complexes, commercial complexes and IT Parks covering a saleable area of ~20 million square feet across Pune, Mumbai and Bengaluru.
 26. The Wadhwa group                                                           
The Wadhwa Group carries a rich legacy of over half a century built on the trust and belief of customers and stakeholders. The group is one of Mumbai's leading real estate companies and is currently developing residential, commercial and township projects spread across approximately 4.21 Million sq.m Developed, ongoing & future (45 million square feet). Timely completion of projects coupled with strong planning and design innovation gives the group an edge over its competitors. As an organization, the group is also known for its employee-friendly and professional working environment. Today, the group's clientele comprises of over 20,000+ satisfied customers and over 150 + MNC corporate tenants.
27. Rohan Builders                                                            
When you love your work, it shows. So, it is no surprise that Rohan Group today has built itself a name across the Real Estate, Infrastructure & Industrial contracting sectors. Rohan Builders started in 1993, and now has a team of over 1,000 professionals and landmarks sprawling over 15 million square feet across the country. Rohan has also introduced the Tunnel form technology, a rapid and advanced construction technique, that helps build one floor a day with much better quality and durability than conventional construction.
28. Provident Housing Ltd.                                              
Provident Housing Ltd. is a 100% subsidiary of Puravankara Limited. The parent company – Puravankara Ltd., established in 1975, is one of the largest real estate developers in the country. Provident Housing has launched 16 residential projects covering over 18 million square feet of land, in 6 major Indian cities including Bengaluru, Chennai, Hyderabad, Mangalore, Coimbatore and most recently Goa.
29. Puranik Builders Limited                                            
Puranik Builders Limited is a leading real estate company providing comprehensive residential and commercial solutions across various categories. Established in 1990, we have successfully developed over 4.21 Lakh sq.mt over two decades, while over 9.88 Lakh sq.mt. are under construction. Puranik's commitment to integrity and trust has made the name synonymous with quality construction and ultra-modernism.