Pune Real Estate Property Market Overview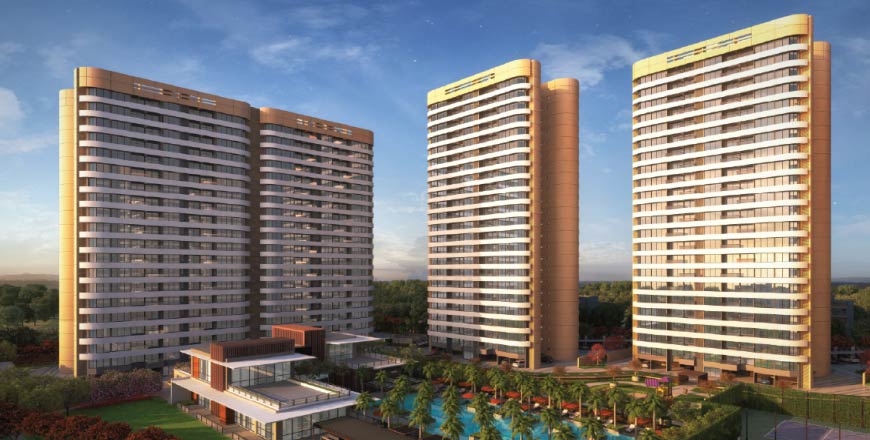 The economic slowdown has shown critical effects in Pune's real estate market as the residential sales have gone down due to covid-19 pandemic hits the real estate sector severally. Aside from the supply chains for building materials being strained and the mass exodus of construction workers, buyer sentiment has also been impacted. The salary cuts, job loss and uncertainty in earnings plays crucial roles in property demand.
The sprawling city Pune, located in the western side of Maharashtra was once the land of Marathas which is considered to be a vibrant metropolis across the state. Pune's real estate market is considered to be resilient because the city is much dependent on IT sectors and also their prices were affordable. The enhanced and transparent screening process before registration has ensured allegiant agreements and thereby maintaining cordial relationships between the buyers and the real estate developers.
It is known as one of the best cities for education, academically with nationally and internationally accredited institutions also Pune is now a thriving commercial city with abundant employment opportunities especially in IT and ITes companies. main focus of property developers is on the improvement of its infrastructures such as construction of new roads, broadening of existing roads, construction of flyovers, subways and metro network. To facilitate the sector's revival, developers needs to stop holding on to high prices, and scale back to realistic prices for construction and sale of properties. Pune also saw majority of new launches in the bracket of less than Rs 50 lakh which predominantly states that the buyers are buying homes to live in and not for investment purposes. Buyers in Pune prefer to compromise on the size, than on the location. Pune west and north areas are gaining more visibility.
Connectivity to the Mumbai-Pune Expressway and the airport is a key driver for the West and East markets respectively. The North and South-West micro markets are primarily driven by industrial establishments and affordability related demand respectively. Pune has been one of the better performing cities in terms of residential sales in the first nine months of 2019 and the city has seamlessly crossed the numbers for aggregate residential sales. A booming IT sector, heavenly climate, proximity to many tourist destinations nearby, being an educational hub, this city has everything you would need and welcomes everyone.
The catalytic force behind Pune property market going northwards has been the shifting focus of IT/ITes to alternative destinations than just Bangalore. The focus is now in Pune's secondary and suburban markets where the highest growth potential for residential property lies. Because of the increasing demand for homes by IT and industrial employees, most of the residential projects being launched in Pune are concentrated on the north-western and south-eastern side. Encompassed in these regions are areas like Baner, Aundh, Balewadi, Hadapsar, Kharadi and Nagar Road. Apart from BPOs and IT/Software Parks, Pune now features shopping malls, multiplexes, top-grade restaurants and hotels on a scale so far confined to cities like Bangalore, Mumbai and Delhi. Healthcare too has taken a quantum leap forward, with hospitals and diagnostic clinic of international standards catering to an enlarged, wealthier and more aware population.
With consumer confidence on a steady decline, homebuyers are skeptical to make long-term big-ticket commitment, like purchasing a house. The prevailing positivity in the Pune market is also rooted in its inherent resilience. It is noteworthy that Pune mostly remained unperturbed even in recent years when numerous major metros suffered a decline in sentiments. Pune's Real Estate is supported by affordable property prices, thriving IT & automobile industry,  social amenities  including healthcare, retail and education facilities  also quality physical infrastructure like power, roadways, water supply and public amenities. The speedy growth of IT, changing demographics and a huge extent of organized retail also affect the Pune property market.
Mundhwa and its neighbouring locations like Kharadi, Wagholi and Keshav Nagar in the Eastern part of Pune is well connected by Magarpatta Road, which joins Pune-Ahmednagar Highway in the north and Solapur-Pune Highway in the south and in the West, Bavdhan with micro-markets in the vicinity like Balewadi, Mahalunge and Wakad are located on the Mumbai-Bangalore National Highway, by-passing the Pune City. Bhugaon  were drawing intrinsic attention, as these areas were best in class in providing basic amenities and these locations are likely to witness robust residential demand in near future. As Wanowrie, Kondhwa and NIBM Road are already densely developed, the focus has been shifted to Undri, Pisoli and its neighboring areas makes sense to study the market carefully and understand the demand.
Some of the most common features of the flat that are most looked forward to are good water supply, life service with backup and good schools, colleges, hospitals and malls in the vicinity. It cannot be denied that real estate in Pune has indeed increased in leaps and bounds in the last decade. The IT industry boom had greatly facilitated the real estate here with the population. The requirement is on a consumer- driven end due to the rise in the buying power of the people as well.
Popular Areas in Pune :
Wakad
Located in the western part of the city, the region is growing in leaps and bounds as far as infrastructure overhaul is concerned. It has also received the largest number of building permissions in the recent past and a rapid development is taking place in the area. The region also offers great scope for commute and one can easily reach educational and corporate hubs of Pune. For intra- city travel, a number auto rickshaws, buses and shared and private cabs are available. The region is also close to the Pune- Mumbai Expressway.
Wagholi
This is also a developing suburb near the Pune- Nagar Highway and is currently one of the best residential areas of the city that great connectivity to the Pune Airport and Solapur Highway. A number malls, shopping centers, hotels and multiplexes have been constructed here. The social infrastructure is fast developing here with the close proximity of IT hubs and the affordable market housing area is one of the best locations for real estate investment in Pune.
Baner
Baner is a quiet suburb located in the western part of Pune. Famous for Varkari Parampara and Bhakti Aradhana, Baner is situated very close to the Hinjewadi IT zone. Additionally, Baner is home to quite a number of well-known pubs and eateries in the city making it a good option to live for people working in Hinjewadi. The region is located near the Katraj – Dehu Bypass Road and would provide great connectivity through Pune Mumbai Expressway. The road infrastructure here is quite developed and schools, hospitals and entertainment centres are in close proximity. Baner will become a vibrant real estate market because it is backed by infra projects and also affordable residential complexes.
Kharadi
Kharadi is an affordable residential option for the city residents, will very soon become a major hotspot of the city because of the regular infrastructure upgrades and growth of commercial projects.
Hinjewadi
Hinjewadi is a cosmopolitan region located in the North-West part of Pune. This place is one of the poshest and prestigious areas in Pune. Additionally, Hinjewadi is home to one of the largest IT parks in India. This place is perfect for people working in the IT industry in Pune. Consequently, with loads of options for eateries, shopping, and entertainment, Hinjewadi is a highly in-demand place for the IT folks. The roads and flyovers make the transportation easier and convenient for people residing here. Few of the well-known locations in Hinjewadi are Phase 1, Phase 2, Phase 3, Hinjewadi Chowk, Marunji road and townships such as Blue Ridge, Megapolis and Life Republic.A quality life is assured at Hinjewadi.
Sinhagad Road
Sinhagad road stands out from the crowded cramped roads in Pune and it is one single stretch that has shown a tremendous growth over the past few years. Also known as the Tanaji Malusare Path in Pune, Sinhagad Road is grabbing the attention of all home buyers and builders. With well-connected road and sound infrastructure facilities, several developers have launched their projects on this road. When it comes to residential buildings, from multi-storey apartments to villas, there is an array of housing options available. The open space, luxury projects, and social infrastructure have led to the growth of Sinhagad road.
Koregaon Park
Koregaon Park is one of the most elite and prestigious areas in Pune. Primarily a residential area, now turned into a commercial marketplace too. Filled with eateries and pubs, KP is a popular hangout place for the youth. Additionally, the lush green surroundings and the number of parks make it the best place in Pune reside in. Although keep in mind, property rates at Koregaon Park are on the expensive side.
Kothrud
Kothrud is an area located in the south-west region of Pune whereas this area has experienced rapid growth in both the residential and commercial markets. Kothrud is one of the most in-demand residential areas owing to its convenient location and connectivity across Pune.
Viman Nagar
Viman Nagar is a highly sought after and coveted residential area located in the eastern corridor of Pune. This place gets its name owing to its proximity to the Pune Airport. Additionally, Viman Nagar houses 2 IT parks and a few malls, making it one of the best areas to live in Pune.
Wadgaon Sheri
Wadgaon Sheri locality lies along the Nagar road and is a popular residential and commercial neighborhood in Pune. This area is among the best places in Pune to live and is well connected to all parts of Pune making it one of the most sought after localities. Additionally, there are several IT companies, healthcare centers, and educational institutions located in this area.
Phursungi
Located in the south-east part of Pune, Phursungi is a good residential option for people working around the Hadapsar IT hub. Although an upcoming residential area, Phursungi has many food options nearby due to its crowd because of the Phursungi IT park.
Magarpatta City
Magarpatta City is located on the way to Hadapsar, Magarpatta City is host to many IT companies, shopping malls, educational institutes, and residential complexes.
Pimple Saudagar
Pimple Saudagar is a suburb located in the northern part of Pune. With proximity to Hinjewadi, it is an ideal place to live for people working in one of the many companies in Hinjewadi. It is a developing residential area which attracts the newer population of the city.
Mahalunge
it's proximity to Baner makes it one of the most desired areas now. Being easily accessible from all parts of the city makes it one of the best areas to live comfortably in Pune.
Pune Nagar Road
Nagar road is the abbreviation for the Pune-Ahmednagar highway. Located in the north-east part of Pune city, this area is lined with many malls, restaurants, Tech parks, and educational institutions. Nagar road has many residential properties which makes it an ideal place owing to its proximity to the city center.
Vishal Nagar
Vishal Nagar is located in the north-west part of Pune city. Close to Hinjewadi, this calm neighborhood is ideal for people working in the Hinjewadi IT area. With scores of options for shopping, eateries, educational institutes, and healthcare centers around this area making it one of the best upcoming residential areas in Pune.
The demographical expansion of Pune housing sector has started from Pradhikaran locality in the city. The growth in this locality has attracted many IT companies towards Pradhikaran. This place is continually experiencing infrastructural enhancements on all frontiers namely, water and electricity supply, digital connectivity as well as roads. The north and north-western direction now have high demand over residential property venture which is due to the growth of PCMC industrial belt.
Pune realty market is poised for growth both in the residential and commercial segment and is actually attracting premium for residential investment. The city is fast emerging as the new commercial capital of India as well. The demand for homes does not come from the IT sector alone. Pune's manufacturing sector, which features a number of international names, also drives residential demand.
While many of the Indian cities are reeling under the apprehension of slowdown. A property price depends on various factors such as location, neighbourhood, quality of construction, Reputation of builder, amenities and age of building. The Pune property market has received the right kind of interest and it has rapidly become one of the major places of excellence in India to live in or also to invest in housing estate. There is also considerable interest for flat sales in the city and the demand for luxury life is fast catching up. It is also putting a pressure on the developers to move on from their old standards and bring more novelty in their construction.