Impact & challenges on Real Estate Property Market due to Covid-19 Pandemic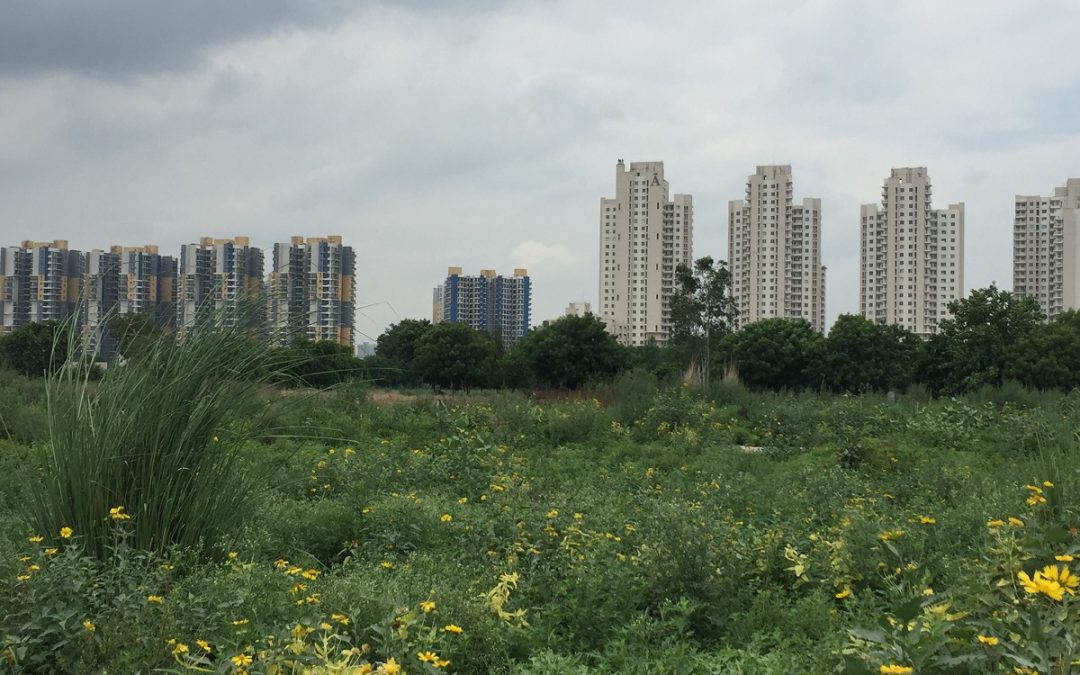 Real estate is the largest employment generator after agriculture in the country and the sector creates tremendous opportunities for the skilled and unskilled workforce. It has also been instrumental in employing large masses of migratory populations that come to the major cities in search of work. The Real Estate sector was already facing severe crisis since last three years, and the Lockdown will further adversely impact the industry. The sector has been successful in overcoming many challenges in the past and has stood up in the most turbulent times. The testing period and the trials keep coming back at regular intervals and it is surely going to hurt the sector but may also fortify for the years to come.
It's clear that real estate is on the brink of a new paradigm. In addition to the clash between the digital versus physical space, we now have the confluence of changing social behaviors that will reset the industry. Many developers are skeptical and have their concern around the launch of new projects considering the current situation of covid-19. New project launches are expected to see a dip this festive season; however, there will be a few exceptions of course such as projects which are already in the soft-launch stage and have already seen a fair amount of marketing exposure. At present, international trade restrictions have been imposed affects the supply of essential raw materials to the Real Estate sector.
Daily wage workers are affected in large. As the epidemic increases, it will surely impact the Indian real estate market and particularly for those who had been preparing to buy or sell a home this season. While much will depend on the length of time it takes to contain the spread of the virus.
We have experienced drastic changes in lifestyle the way we use to live before outbreak of corona pandemic. People can no longer meet, work, eat, shop, entertain and socialize as they used to do before covid. The working world moved rapidly from business as usual to cautious travel, office closures, and work-from-home mandates. Instead of traveling and going out to eat at restaurants, consumers across the world spend only on essentials primarily food, medicine, and home supplies. Physical distancing has directly changed the way people inhabit and interact with physical space.
The COVID-19 experience could also permanently change habits that may affect demand for other real estate assets, such as hospitality properties and short-term leases. The level of unemployment, wage cuts, business failures, and job uncertainty, many people are likely to be cautious about making the biggest investment of their lives – buying a home, however the situation expected to be improve post covid-19.
The impact on Indian real estate has been unprecedented to an extent that it has brought construction activities to a halt and significantly eroded the market of its potential buyer-base. The enforced lockdowns will leave many properties unoccupied for some time, increasing the chances of force majeure events, and tenants will be unable to cash out rent fees. Ultimately, this will lead to a decrease in yield to investors.
The situation remains fluid and uncertainty still looms on the possible economic impact of the outbreak. With the global impact on multiple sectors, Indian realty sector is by no means an exception. However, since majority workers are immigrants, labor shortage could emerge as a major challenge for the sector due to current lockdown.
Even after the Lockdown is relaxed, the real estate industry will continue to face challenges as business may not be as seamless as it was earlier due to various factors, including social distancing, shortage in supply chain of essentials or non-essential commodities and goods, non-availability of construction raw materials or migrant workers and conflicts in contractual conditions. COVID-19 has caused unprecedented disruption to the Indian economy over the past few months, accordingly, the housing segment will probably take the greatest hit in the coming weeks and months. The immediate impact on the sector has been:
·         Reduction of the labor force and disruption of supply chains, which is expected to translate to longer development periods,
·         A slowdown in building approvals as public offices  remain closed or partially opened
·         Reduced construction activities by developers in a bid to reserve their cash at a time when market liquidity is likely to decline,
·         A slowdown in collections for those who have purchased off-plan real estate on installment plans
·         Reduced funding to the sector due to general risk aversion during the pandemic.
Real estate sectors namely; residential, office, retail, and, hospitality particularly have been hit by covid lockdown measures and diminishing disposable income by a majority of assets in the following ways:
The sector, especially the residential segment has already been struggling with the project delays
·         Labor and raw materials shortage.
·         Liquidity in the present market.
·         Lesser demand by the consumer.
The current situation gave massive disappointment and distress to the homebuyers, furthermore, it also provoked the development in the real estate sector. This undesirable impact on the sector can only be secured by the upcoming resolutions by all concerns. 
It is expected to see a significant price correction in some of the properties as the corona virus pandemic stalls businesses across the country. Developers may also offer freebies such as GST and stamp duty waivers, additional gadgets in the house such as dishwashers, AC, Modular kitchen, Club membership or parking. Home buyers who are expecting the possession of their properties soon must be prepared to wait longer. This means they will continue to pay rent as well as EMIs at least for the next few months, as project deliveries are likely to be deferred. Rental expenses form a comparatively smaller proportion of the total cost structure of office space. Whereas in the case of co-working spaces, tenants are mostly startups or small businesses. These tenants are more likely to negotiate on the rentals, rather than a normal office space tenants.
The major benefit of buying a completed apartment is that buyers are completely aware and know exactly what they are buying while inspecting the apartment. In terms of tax, the implemented Goods and Services Tax (GST) levies a five percent tax on purchase of under-construction properties. Ready properties, however, are left out of the ambit of GST. As the property is ready for customers to look at before they finalize their decision, there is no risk of discrepancies with the promised layout, features or amenities. In fact, this time of social distancing can be used to take a look at virtual tours and photos of the property itself.
The industry is focused on upgrading their web technology to provide 3-D tours, video tours, robust photos and live-chat tours that enable our potential buyers to see properties virtually. With this we can limit the face to face interactions and still continue making robust sales. As people around the world have been forced to work from home, many have turned to digital and online tools for remote working and entertainment. As we all get used to online services to connect, it has the potential to change our culture and the way we engage in many new ways.
Despite an increase in the cost of construction and uncertainties around labor returning to metro cities from their hometowns post-lockdown, property prices are expected to see corrections, owing to marred buyer sentiment and panic selling by some homeowners in the resale market. New project launches are expected to get postponed till the festive month of October and it is highly unlikely that they will contribute enough to move average selling prices up in various cities.
In the short term, we expect the slowdown in construction activities to help accelerate the movement of existing property inventory, thus, facilitating a demand-supply equilibrium in sectors experiencing oversupplies such as the retail sector. The largest imports related to the construction industry are iron and steel products, technical construction equipment, electronic equipment, Tiles, marble, plastic and fiber elements, solar panels, furniture and fit out goods.
The intrinsic domestic demand for housing will remain to be strong and perhaps the price correction due to the epidemic may open an opportunity for buyers to buy properties on a much lower value. Many developers are doubtful and have restrictions around the launch of new projects analyzing the current situation. Even before the virus outbreak, behavioral shifts such as shopping online and working from home were challenging traditional real estate models.
The strong demand for residential space in recent years is due to population growth and the continuing influx into metropolitan regions and Tier-1 and Tier-2 cities. This has led to a significant increase in the prices of properties for sale and rent and real estate investments have generated steady cash flow and returns significantly above traditional sources of yield.
Housing is an important segment and a basic necessity to humanity however intrinsic domestic demand for housing will continue to exist once the situation normalizes. With the country on lockdown, under-construction projects will be likely to face a certain delay in delivery. However, the solution lies in the ready to move in properties. With home sales expected to slow down big time in the months to come, the construction of new homes will slow down as well. This means that real estate employment is bound to come down.
During the construction of affordable housing the local economy benefits directly from the funds spent on materials, labor, and the like. A slowdown in real estate will impact on Contracting companies, consulting, finance, investors, material manufacturers, service providers and professionals of various specialization.
Lower Rents and Prices – Decline in income will ultimately lead to homebuyers and renters having lower funds to spend on their monthly housing costs, thus decline in effective housing demand leading to lower home prices and lower market rents. The occupancy rates and uptake to record flat growth, largely attributable to restrictions on individual contact or movement during this pandemic.
Marginal Revenues for Serviced Apartments – unlike hotels which tend to attract short-stay visitors, serviced apartments revenues will continue to be sustained by the presence of long-stay visitors in the near-term.
The commercial real estate which till now, has been the jewel in the crown' of real estate is bound to face repercussions due to these measures. Corporate occupiers would postpone taking up spaces till the time the current scenario becomes clear and is under control. Corporate occupiers are seen delaying their leasing decisions and still several MNCs and businesses are testing new waters of the work from-home option.
Office buildings' occupancies are set to decline as companies resort to make working remotely a permanent feature. The market turbulence will see businesses scaling down operations and might, therefore, lead to increased vacancy rates in the near term. Co-working spaces demand could decline significantly. As people are trying to avoid interacting with others in the office environment. The operators of the co-working spaces will need to innovate in order to retain and attract new customers. Serviced Offices may not be dead yet towards the end of 2019, the sector was wondering whether the serviced office bubble had burst. This situation may provide a shot in the arm to that part of the industry. With occupiers looking at uncertain times, the flexibility offered by the serviced office model may become ever more attractive to businesses looking to keep cash flows flexible and commitments low.
Moreover, the slowdown is already being reflected in the delayed decisions by retailers to lease spaces. Retail businesses, highly dependent on consumer spending, are also witnessing a momentary slowdown and reduced interest from global brands who may now consider revising their expansion plans. Tenants will be king whereas Retail landlords in particular must be prepared for aggressive renegotiation. There has been increased sales of fast-moving consumer goods by retailers through e-commerce firms as most Indians continue to stay at home so as to adhere to the government's social distancing norms.
The deep slump in the hotel and hospitality sector due to the cancellation of flights and closure of Airports and trains. Closure of Major Hotels – The hospitality sector has been the hardest hit owing to its heavy reliance on tourism and the MICE sectors. Travel restrictions, which have completely stopped international tourist arrivals, have led to the closure of various popular hotels.
Real Estate funds have been hit by temporal liquidity challenges especially where the funds are open-ended, what the funds can do is borrow from what the other organizations are doing to preserve the value of the funds such as reducing cash payout to investors and seeking capital restructuring from investors. Encourage employees to follow preventive personal hygiene practices recommended by health organizations and to stay home and contact health professionals if they feel symptomatic or have come into contact with someone who has contracted the virus. If the real estate sector has to actually revive, then people need to start buying homes and that will only happen once homes are reasonably priced however for that to happen, builders need to cut prices with other incentives and ensure to deliver the projects in time as per RERA norms and committed specifications and quality. But in spite of all, the Indian economy and real estate industry have courage and capability to tackle the situation well and follow the exponential growth path as soon as the covid effects neutralise. It is our responsibility  to follow the norms strictly to fight against covid-19 and do our part honestly under the given circumstances in all sectors to rerail the economy.
Author :
Sparsh Bhayare
MBA First Year, PGP IIMV(2019-21)