Group Buying Properties, can be the win-win situation for Developers & Buyers !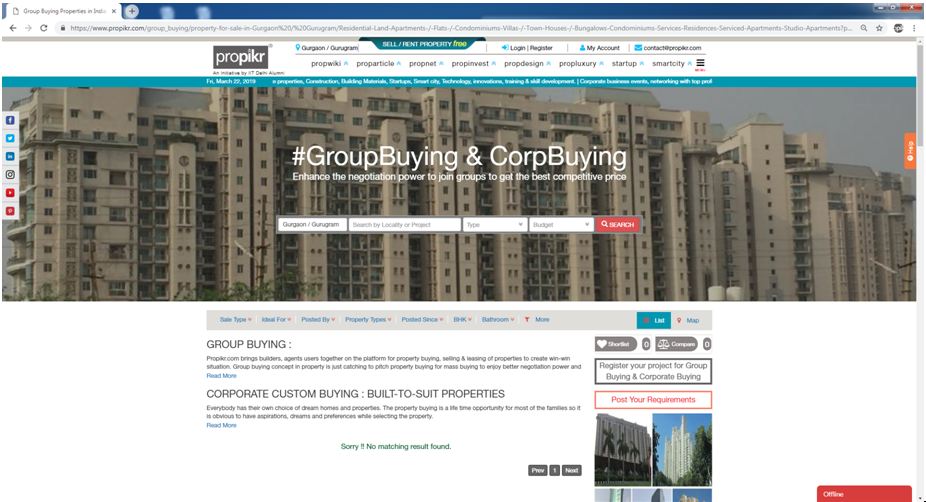 Group Buying or bulk buying is a new trend in real estate gaining relevance, where potential home buyers registered their interest in buying a property to form a group and the developer offers  discounts or provide some special offers on completion of requisite number. Group buying has been taken online in various ways has become a phenomenon across the world. Real estate group buying can really help to expedite the sales process of a new residential or commercial projects, where websites like propikr.com showcased Group Buying schemes on various properties in different occasions.
By coming together and forming a group, the individual buyers can increase their bargaining power and hence will be able to crack better deal. whereas the web platforms using their skills they could negotiate with a developer as they see an opportunity of selling multiple apartments in one go and get you best possible schemes with bigger discounts and  freebies. Moreover as a group you could also reach out to service providers like banks, Furniture, Interiors, home decor accessories and home appliances to avail group discounts there too.
This is an opportunity for developers of selling multiple apartments in one go and get the  large sum of down payment, making room for completing the existing project  or begin to invest in new ventures. The buyer tends to market the developer as well as the group buying model to their acquaintances. Instead of approaching individual potential buyers at huge dedicated marketing costs, it makes eminent sense for them to negotiate with groups of buyers and strike a deal that brings in substantial amounts of much-needed liquidity immediately. Moreover, developers get a ready made market to sell their properties in bulk without spending anything in customer acquisition and marketing to reduces their cost of selling whereas the  savings can be passed to the home buyers in the form of additional discount. In fact, even fund houses looking for investments in real estate have considerable interest in this business model. Property buyers instead of waiting for offers, discount or real estate prices to come down, form a group with friends, family, colleagues or even strangers who are interested in the same project are in a beneficial position when it comes to cumulative bargaining power.
In today's time when all of us are closely connected via social media, group buying has become quick and easy to implement. Most importantly as an investor, you must buy the right properties, at the right prices and at the right time. A well-established, well-located property can generate up to decent gross yield in addition to capital appreciation.