Growing Real Estate property web portal in India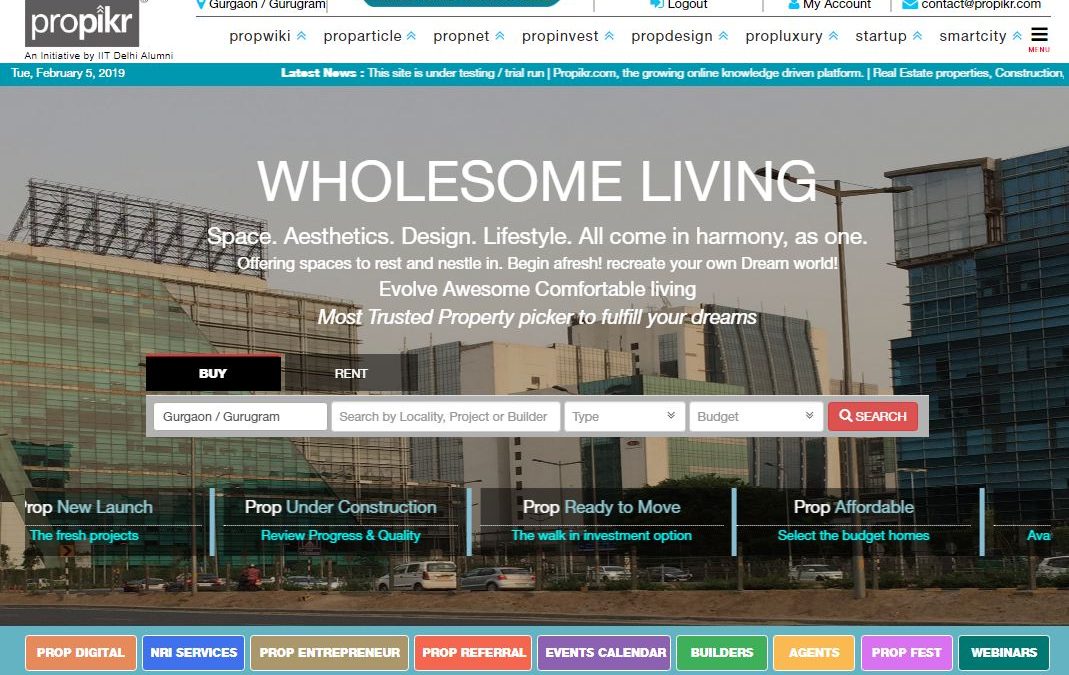 The majority of business operations in the world are deeply influenced by internet and the real estate property web portals contributed significantly to boost the real estate property market in India. The large number of people migrates from one place to another within and outside the country for short and long stay due to current work trends, education, business, social and leisure purposes. Digital marketing is a dominant player in the global real estate industry. Real estate portals come in all shapes & sizes, features, designs, technology and navigation. The digital technology  helped to bridge the communication gap between builders, Agents and buyers. The property websites are an easy and cost-effective way to get relevant real-estate information on computers or mobile phones which are helpful in lead generation and attracts large number of potential buyers .
Propikr.com,  the growing online knowledge driven Real Estate Property web portal focused on Residential and Commercial property in India along with  Construction, Building Materials, Startups, Smart city,  Technology, innovations, training & skill development with the digital marketing features has ambitious plans to list large number of potential property for Buy, Sell, Rent, Lease & PG. The founders strive to create center of excellence with extensive market research, cutting edge technology, corporate business events, networking with top professionals, promote green, intelligent energy efficient development, project management and integrating knowledge with professional experience in shaping & sizing the business success for inclusive growth of the Real estate Industry.
propikr.com, the unique Platform to Sell, Buy & Rent Property, is one of the fastest growing user friendly property portal in India to facilitate Buyers, Lessees, Builders, Real Estate Agents, Property Owners and real estate Investors to showcase their property to wide range of potential buyers and investors. propikr shall be evolved as master tool with vast array of services for users listing & searching for real estate properties across India.
You can post complete details about your property with numbers of photos. The response details can be traced out from my account section to follow them directly. Using an online portal allows sellers to elaborately describe their property and exhibit it through the use of photos and videos to give buyers a glimpse of the property. The navigation is absolutely simple for the property listing, the user has to register, select the free or paid package, fill the listing form 1 & 2, submit and activate from my account after approval of admin to make the property live on portal. The users to search the property can visit propikr.com, select city, types of property and submit to get the output with the various filters can be apply as required.
The property portal have unique features such as quick search facility, information on mortgage & loan services, offers, group buying schemes, incentives on referrals, events & property festivals showcased  on a property portal is vital to capture the attention of many potential buyers.
The key features of Real Estate portals are :
·         Now you can check out a property's location on a map and understand its proximity to surrounding physical and social infrastructure including highway, metro station, bus stop, hospitals, malls, cinema halls, schools, parks, restaurants, retail stores, ATMs, hospitals and airport.
·         The 3D walkthrough and virtual tour consist aerial view, multi dimensional views from different angles, during day & night, exteriors, interiors, amenities, design, arts, entry, drive way, landscape, infrastructure, with circulation & connectivity gives fair ideas about the property.
·         Home page is simple and displays its headings, sub heads and links upfront.
·         The website's home page prominently displays various search tools for buyers, sellers and those looking to rent or PG accommodation.
·         The website is easy to navigate.
·         You can search for a home loan on this portal, which also has an EMI calculator.
·         A single listing is available free of charge for one month extendable to one more months as decided by Admin.
·         The property search option for residential and commercial properties in various categories
·         It provides a map of the area where the property is located.
·         The website  have plenty of property search features.
·         Each listed property detail page is comprehensive.
The benefits of Real Estate Portals are:
·         The potential users can visit property portals, select city, types of property for sale or rent, the various property options are displayed. The user can further use filters to narrow down as per requirement and select the property as per choice, saves time to hunt in the field.
·         Wider reach, by sitting in front of computer, you can collect facts regarding various properties across the country by using property websites.
·         Data-based analysis of  micro markets with minute details of the property
·         Project details including Location, connectivity, layout plans, land area, Design, Planning & approvals
·         Having an online profile adds to the credibility and trust of the builder or developer.
·         Multi visibility of online Property
·         Cost Effective, long lasting, targeted advertising medium for properties and construction products.
·         Increased Visibility & Expand your Reach to Millions of Potential Buyers & Investors
·         More Qualified Leads likely to get if correct details are filled up.
·         Quick, convenient and easy to use.
·         The draft Rent agreement needs to provide basic details and add customised clauses relating to area, floor, power, water, parking, tenure of agreement, furnishing, Rent, payment, exit  and much more to generate the agreement as required.
·         Property Buying & Selling Guides  or tips are available in some of the leading portals as general guidelines
An effective design & navigation includes beautiful and interactive menu. The menu needs to be very well structured with the links classified as the main menu titles and the sub titles Project location, approvals, connectivity, infrastructure, property specifications, amenities,  approved by banks for home loan, high-resolution pictures, 3D view and virtual tours of properties, sale price, offers & payment plans. The brief description about Builders, Location, neighborhood and many other relevant features and details are the common expectations of investors.
The portal allows individuals to search for the property online that matches with their requirements whether residential or commercial property. The NRIs and people living in other cities can register on platform, select city  and see various listed properties, choose the best suited option, payment plan, make site visit to see the property, discuss with builders and owners to clarify all concerns and clarifications.
It is essential to carry out appropriate research before making any decision to buy or rent property. Check all Legal documents of properly with complete due diligence in consultation with legal experts before taking any decision about property.